June 27, 2006
A big 'Thank You' to everyone who commented on the socks I knit as a gift for my MIL. My in-laws were up visiting from NJ to celebrate Mr. SpiderWomanKnits birthday this past Saturday and things have been busy so I haven't had a chance to get back to anyone or read blogs the past few days. I'm catching up slowly but surely :-)
Last night, however, I did find time to cast on for my new project brought about by the Summer of Stash Along. I was thinking about the yarn I have in my stash that I have never contemplated before, you know, the yarn that you pick up out of color lust but haven't given much thought to since. Well, I have three huge cones of DK weight Shetland New Wool that I picked up at the 2005 Webs Annual sale for a song and a dance that just sort of sit on the bottom shelf of my stash. I hardly notice them but Jennifer did (somehow) when I posted this photo and asked me what I was going to do with them. Good question, Jenn. Here's my answer (for at least one of the cones, anyway)...
I am pretty excited about this WIP since it will be my first attempt at Intarsia and my first Rowan knit. It's funny how you have to learn the language of each designer. I am finding the wording of the Rowan patterns a tad confusing/not intuitive but workable nonetheless. It's just a matter of "getting" the way they are thinking. The pattern is Laurent from Vintage Knits and I plan on using bits of the other cones for the color work. I wear a lot of Old Italian Lady type dresses so I can see myself using this a lot, belt and all. This book just makes me drool. I pretty much want to knit everything in it with a few exceptions. Hopefully, I'll be able to put the other two cones to use with this book since there are quite a few patterns for DK weight wool.
Oh, as for those socks I knit for my mother-in-law...a picture is worth a thousand words...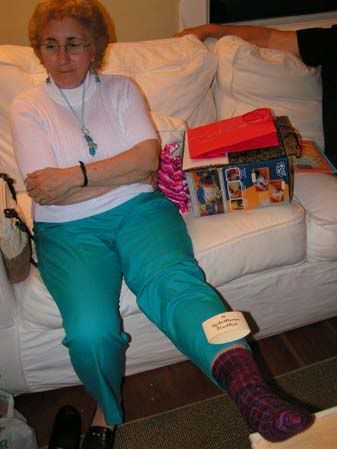 Yup, she only has one sock on because the other one didn't fit! I can't even think about it right now so I am going back to catching up on blogs and knitting Laurent :-|